Regular price
Sale price
$75.00 USD
Unit price
per
Sale
Sold out
Gorgeous 9'x12" giclee prints on archival watercolor paper from an original watercolor painting of majestic Three Fingered Jacks |Magic Realism  | Impressionism.  
Giclee print of an original 9x12 in watercolor painting by Olga V. Walmisley-Santiago. 
Three Fingered Jack rising between Mt. Jefferson and Mt. Washington, is one of the oldest high volcanoes in the Oregon Cascades.  It last erupted around 250,000 years ago, and is said to be named after an outlaw known as Tres Dedos, who was killed by the California rangers in 1853. 
In Olga's colorful picture, the mountain is mirrored in the lake below, and wildflowers burst with life in the foreground. This little print will brighten anyone's day.
COMES FRAMED OR UNFRAMED

9" x 12" Signed Art Print. Limited-Run Number & Signed Print out of 60.


Each print is printed with archival ink and on archival-quality fine watercolor paper.

This is a hand signed, limited run, fine art print. Each giclee print is printed on archival paper with archival inks. This print edition will be limited to 60 prints, and hand signed in pencil.

- Giclee print on archival quality fine art paper.

- Paper size 9 x 12"

- Image size 8" x 11."

- Expect a 1/2" white border.

- Signed in pencil, and numbered out of 60.




 ►FREE SHIPPING◄

Unframed print packaged neatly and carefully inside a clear, acid-free archival bag, to ensure safe shipping. Framed print is carefully wrapped and boxed.  Free domestic shipping within the USA.

►ABOUT THE ARTIST◄
Olga V. Walmisley-Santiago, a British artist based in Independence, Oregon, is known for her vibrant acrylic landscape and still life paintings filled with color, movement and detail, and watercolors that dance with reflections and light.  She celebrates the beauty of nature and brings out the "hidden colors" in the depths of a river, the sparkle of a waterfall, or the edge of a leaf.  Her impressionistic paintings create a world of "magic realism" with dream-like colors and uplifting tones.   Olga was born and raised in London, England,, and has strong ties to Spain and Mexico, having lived in London,  Spain, Ohio, and Kentucky before moving to Oregon.   These layers of culture and experience lend her a unique artistic perspective, and a sense of life as a constant exploration and adventure.  As she continues on her exploration of Oregon and beyond, she constantly takes photos, to later recapture some of the essence of a fleeting moment of beauty in a special place.  She highlights the magic of natural beauty with colorful paintings of mountains, rivers, flowers, fields, waterfalls and coastal scenes, and the creatures and plants that live there. 
 ►FOLLOW ME◄

Follow along on Instagram: 
@walmisley.art.studio
This image is copyright Olga V. Walmisley-Santiago 2022. All rights reserved.
Share
View full details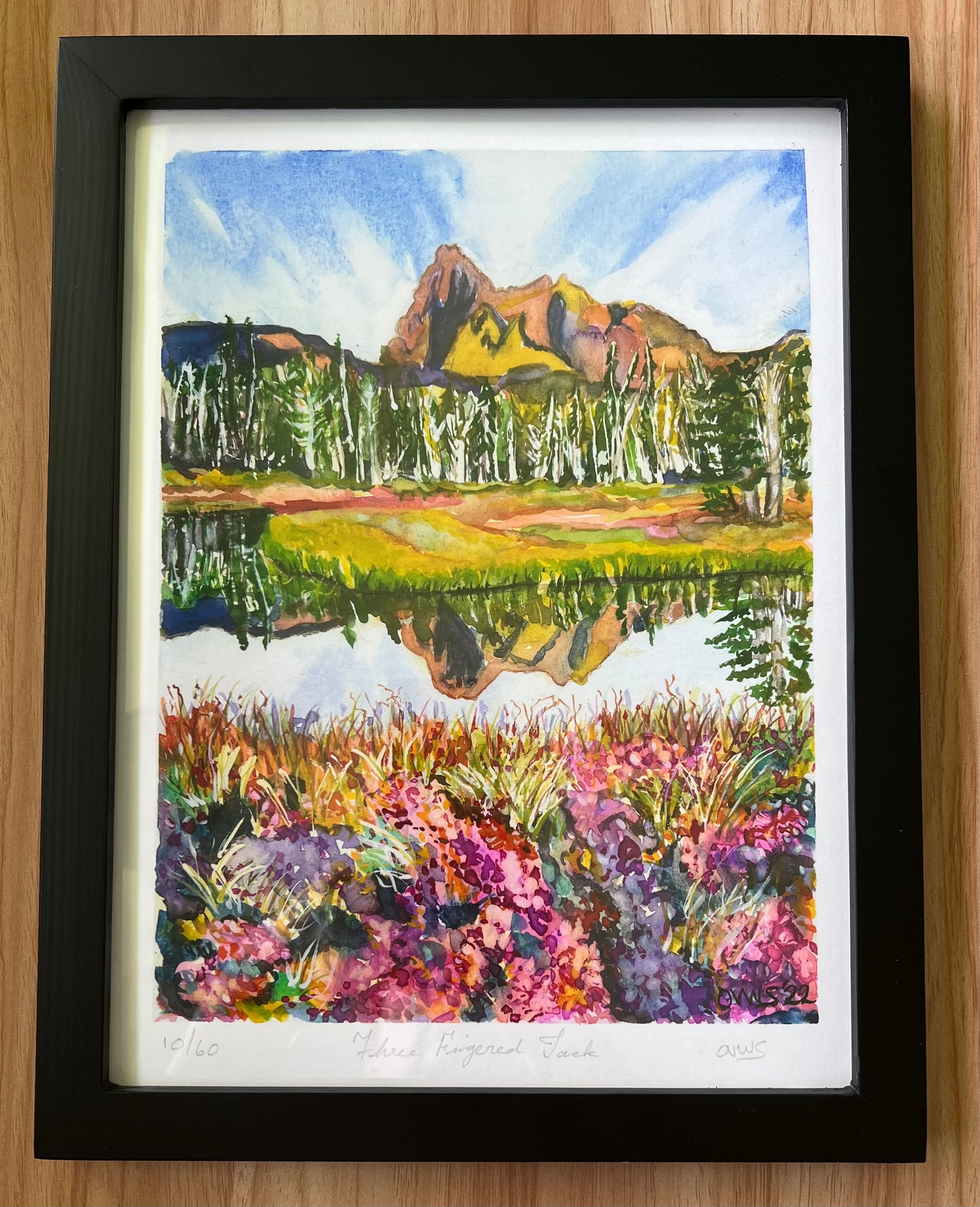 Free Shipping

Free shipping within the US.